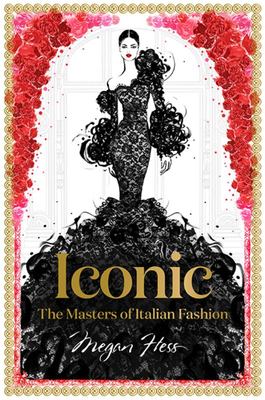 $29.99
NZD
Category: Other | Series: Megan Hess: the Masters of Fashion Ser.
For centuries, Italian fashion has been known for its craftsmanship and luxury, but also for its creativity and, most of all, its passion. Lace, leopard print and show-stopping red dresses - the masters of Italian fashion know how to make a statement. From the workshops of Florence to the runways of Milan, join Megan Hess on an unforgettable journey beneath the seams of ten iconic Italian designers: Giorgio Armani, Dolce & Gabbana, Fendi, Missoni, Prada, Miu Miu, Gucci, Versace, Emilio Pucci and Valentino. Complete with Megan's spectacular illustrations of Italian fashion's most dramatic outfits - including power suits, psychedelic kaftans and haute couture gowns - Iconic: The Masters of Italian Fashion is a lavish celebration of one of the world's leading fashion destinations. ...Show more
$27.99
NZD
Category: Other
When we take risks with our kids, we teach them to be better adults. 50 Risks to Take With Your Kids teaches parents and carers how to nurture resilience in their kids as they learn to take their own risks. It may sound counterintuitive to say that the longer you let kids be kids, the better they will ' adult' in the future, but it's true. The more children are allowed to play in the mud, create games and find their own solutions to problems, the more they will thrive later in life. Written to combat a growing generation of kids who have not been given the room to learn and grow in their own time, 50 Risks to Take With Your Kids gives parents and careers an easy-to-use framework with simple, practical challenges for children aged up to 10 years old. In this book, you'll find risks that develop physical and social skills, responsibility and character. You'll also find some all-important parenting risks that will encourage you to step outside your comfort zone and think alittle differently about raising kids. Peppered with Daisy Turnbull Brown's own experiences in parenting, teaching and wellbeing, this warm and funny book is not about developmental KPIs, and it's certainly not about judgement. It's about nurturing independence and resilience, teaching kids to recognize and assess risks themselves, and readying them to take on life and all that it brings. And it's about having fun and connecting as a family along the way. ...Show more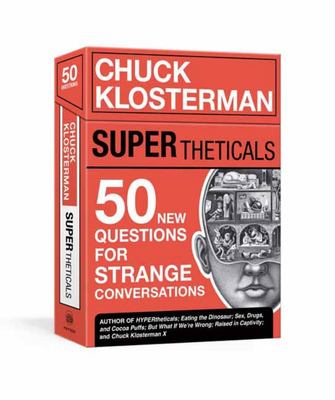 $35.00
NZD
Category: Other
From the king of pop philosophy and renowned author of the runaway hit card game HYPERtheticals comes more wild conversation starters featuring a range of unique new prompts. Imagine a person who is your genetic clone. They are a perfect replica of yourself but raised by different people in a different place. It has come to your attention that your clone is trying to destroy you. You have three options: you can go into hiding, you can meet your clone and try to use reason and diplomacy, or you can attempt to destroy your clone before it destroys you. What do you do? Designed to stimulate dorm-room debate, barstool banter, and unconventional conversation at the dinner table, this new card deck is delivered with Klosterman's trademark wit and asks you to take a stand on matters of morality, social taboo, and personal identity in a fun and engaging way. The prompts all start with "Imagine a Person..." and range in theme, allowing you to play with co-workers, friends, and family. The cards are color-coded to differentiate between kid-friendly questions, adult-only topics, and those you might save for your closest friends, making this a truly versatile--and revealing--experience. ...Show more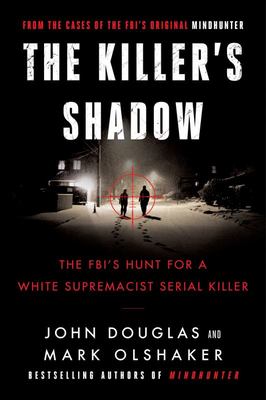 $32.99
NZD
Category: Other | Series: Cases of the FBI's Original Mindhunter Ser.
The legendary FBI criminal profiler and international bestselling author of Mindhunter and The Killer Across the Table returns with this timely, relevant book that goes to the heart of extremism and domestic terrorism, examining in-depth his chilling pursuit of, and eventual prison confrontation with Jo seph Paul Franklin, a White Nationalist serial killer and one of the most disturbing psychopaths he has ever encountered.Worshippers stream out of an Midwestern synagogue after sabbath services, unaware that only a hundred yards away, an expert marksman and avowed racist, antisemite and member of the Ku Klux Klan, patiently awaits, his hunting rifle at the ready. The October 8, 1977 shooting was a forerunner to the tragedies and divisiveness that plague us today. John Douglas, the FBI's pioneering, first full-time criminal profiler, hunted the shooter--a white supremacist named Joseph Paul Franklin, whose Nazi-inspired beliefs propelled a three-year reign of terror across the United States, targeting African Americans, Jews, and interracial couples. In addition, Franklin bombed the home of Jewish leader Morris Amitay, shot and paralyzed Hustler magazine publisher Larry Flynt, and seriously wounded civil rights leader Vernon Jordan. The fugitive supported his murderous spree robbing banks in five states, from Georgia to Ohio. Douglas and his writing partner Mark Olshaker return to this disturbing case that reached the highest levels of the Bureau, which was fearful Franklin would become a presidential assassin--and haunted him for years to come as the threat of copycat domestic terrorist killers increasingly became a reality. Detailing the dogged pursuit of Franklin that employed profiling, psychology and meticulous detective work, Douglas and Olshaker relate how the case was a make-or-break test for the still-experimental behavioral science unit and revealed a new type of, determined, mission-driven serial killer whose only motivation was hate. A riveting, cautionary tale rooted in history that continues to echo today, The Killer's Shadow is a terrifying and essential exploration of the criminal personality in the vile grip of extremism and what happens when rage-filled speech evolves into deadly action and hatred of the "other is allowed full reign. The Killer's Shadow includes an 8-page color photo insert. ...Show more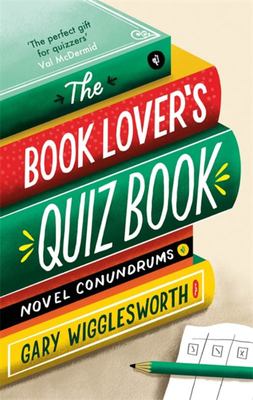 $34.99
NZD
Category: Other
'Brilliantly inventive and entertaining questions from the bookworm's bookworm' Mark Mason, author of Walk the Lines, Question Time and many more This is a literary quiz book with a difference. Rather than basic sets of questions, The Book Lover's Quiz Book mirrors the format of Gary's live quizzes, at the Betsey Trotwood in London and elsewhere. So, there are lots of multiple-choice questions, some amusing answers, clever red herrings, little-known facts about authors and some of the much-loved Say What You See picture round. Also, there are fixed and variable rounds - fixed ones include 'Blankety Books' (one word missing from the title - always with a theme), 'Literary Links and lists' (what connects/next in the list etc.) and '2 of a Kind' (name the character and the author that share the same initials). The changeable rounds keep the quizzes fresh and include 'What the Dickens?' (real or made-up Dickens names), 'RomeNo or JuliYess' (real or made-up Shakespearian insults) and 'Book Bingo!' (identify the correct number). There are also more standard rounds such as 'First Lines', 'Working Titles' and 'Banned Books'. The aim of all Gary's quizzes, and this book, is that people should have fun and be able to guess (if they don't know) as much as possible. ...Show more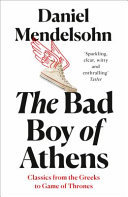 $27.99
NZD
Category: Other
'Mendelsohn takes the classical costumes off figures like Virgil and Sappho, Homer and Horace ... He writes about things so clearly they come to feel like some of the most important things you have ever been told.' - Sebastian Barry. Over the past three decades, Daniel Mendelsohn's essays and reviews h ave earned him a reputation as 'our most irresistible literary critic' (New York Times). This striking new collection exemplifies the way in which Mendelsohn - a classicist by training - uses the classics as a lens to think about urgent contemporary debates. There is much to surprise here. Mendelsohn invokes the automatons featured in Homer's epics to help explain the AI films Ex Machina and Her, and perceives how Ted Hughes sought redemption by translating a play of Euripides (the 'bad boy of Athens') about a wayward husband whose wife returns from the dead. There are essays on Sappho's sexuality and the feminism of Game of Thrones; on how Virgil's Aeneid prefigures post-World War II history and why we are still obsessed with the Titanic; on Patrick Leigh Fermor's final journey, Karl Ove Knausgaard's autofiction and the plays of Tom Stoppard, Tennessee Williams, and Noël Coward. The collection ends with a poignant account of the author's boyhood correspondence with the historical novelist Mary Renault, which inspired his ambition to become a writer. In The Bad Boy of Athens, Mendelsohn provokes and dazzles with erudition, emotion and tart wit while his essays dance across eras, cultures and genres. This is a provocative collection which sees today's master of popular criticism using the ancient past to reach into the very heart of modern culture. ...Show more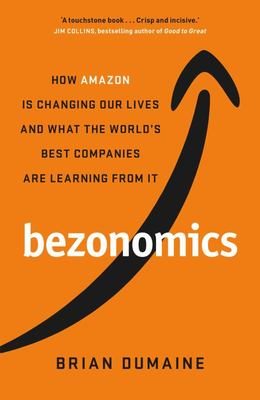 $39.99
NZD
Category: Other
Amazon is the business story of the decade. Jeff Bezos, the richest man on the planet, has built one of the most efficient wealth-creation machines in history. Like a giant squid, Amazon's tentacles are squeezing industry after industry and, in the process, upsetting the state of technology, the economy , job creation and society at large. So pervasive is Amazon's impact that business leaders in almost every sector need to understand how this force of nature operates and how they can respond to it. Saying you can ignore Jeff Bezos is equivalent to saying you could ignore Henry Ford or Steve Jobs in the early years of Ford and Apple. These titans monumentally changed how we do business, redefining the rules on a global scale. Amazon founder Jeff Bezos is the new disruptor on the block. He has created a 21st century algorithm for business and societal disruption. He has turned the retail industry inside out, is swiftly dominating cloud computing, media and advertising, and now has his sights trained on every other domain where money changes hands and business is transacted. But the principles by which Bezos has achieved his dominance - customer obsession, extreme innovation and long-term management, all supported by artificial intelligence turning a virtuous-cycle 'flywheel' - are now being borrowed and replicated. 'Bezonomics' is for some a goldmine, for others a threat, for still others a life-shaping force, whether they're in business or not. Brian Dumaine's Bezonomics answers the fundamental question: how are Amazon and its imitators affecting the way we live, and what can we learn from them? ...Show more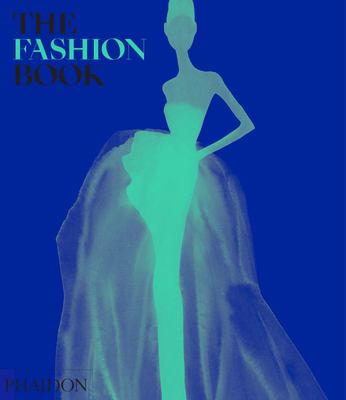 $85.00
NZD
Category: Other
The iconic bestseller - showcasing more than 500 of fashion's greatest names from A- Z - now updated in a stunning new edition Revised and updated, this new edition of Phaidon's iconic global bestseller The Fashion Booktakes a fresh look at the fashion world and the people who created and inspired it. Spanning two centuries, the entire industry is represented: from designers to photographers, editors, creative directors and influencers. Marking significant changes on the fashion landscape, this edition features the new people who have fundamentally shaped the way we see fashion in recent years, including Virgil Abloh, Gosha Rubchinskiy, and Alessandro Michele, influential photographer Petra Collins, designer and contemporary icon Rihanna, and Leandra Medine, alongside fashion pioneers of the previous edition such as Coco Chanel, Issey Miyake, Kate Moss, Erdem, and Richard Avedon. The bestselling - and now updated - classic volume remains a comprehensive and definitive view of the fashion industry today.     ...Show more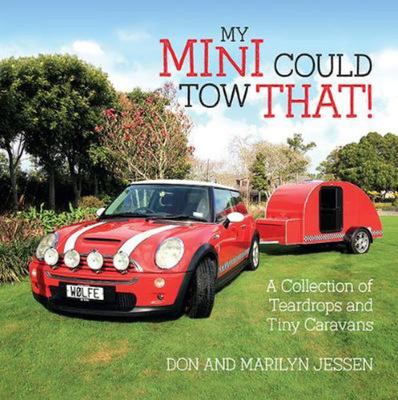 $39.99
NZD
Category: Other | Reading Level: near fine
Miniature vintage and classic caravans - otherwise known as `tinies' and `teardrops' have become hugely popular in recent years, due to their dinkiness and versatility. The good use of compact spaces and the appeal of quality design have always caught Don and Marilyn Jessen's imagination, and their trav els have connected them with a wide variety of people at the forefront of the `tinies' and `teardrops' movement. This book pulls together a collection of these small but perfectly formed mobile spaces from across Australia and New Zealand. ...Show more
$19.99
NZD
Category: Other | Series: TLS Bks. | Reading Level: 4 Non Fiction
What makes a hero? Who better to answer that question than Lee Child... 'It's Lee Child. Why would you not read it?'- Karin Slaughter'. I don't know another author so skilled at making me turn the page' - The Times In his first work of nonfiction, the creator of the multimillion-selling Jack Reacher series explores the endurance of heroes from Achilles to Bond, showing us how this age-old myth is a fundamental part of what makes us human. He demonstrates how hero stories continue to shape our world - arguing that we need them now more than ever. From the Stone Age to the Greek Tragedies, from Shakespeare to Robin Hood, we have always had our heroes. The hero is at the centre of formative myths in every culture and persists to this day in world-conquering books, films and TV shows. But why do these characters continue to inspire us, and why are they so central to storytelling? Scalpel-sharp on the roots of storytelling and enlightening on the history and science of myth, The Hero is essential reading for anyone trying to write or understand fiction. Child teaches us how these stories still shape our minds and behaviour in an increasingly confusing modern world, and with his trademark concision and wit, demonstrates that however civilised we get, we'll always need heroes. ...Show more
$28.00
NZD
Category: Other
THE ULTIMATE SURVIVAL GUIDE FROM THE WORLD'S LEADING SURVIVAL EXPERT. ___________ Do you know how to... Survive a bear attack? Make fire from virtually nothing? Fly a plane in an emergency? Survive in the most extreme conditions? Bear Grylls does. There is barely a terrain he hasn't conquered or an e xtreme environment he hasn't experienced. From his time in 21 SAS, through to his extraordinary expeditions in the toughest corners of each of the seven continents, Bear has accumulated an astonishing wealth of survival knowledge. Now, for the first time, he is putting all his expertise into one book. How To Stay Alive will teach you all of the essential skills you need to survive in the modern world. ...Show more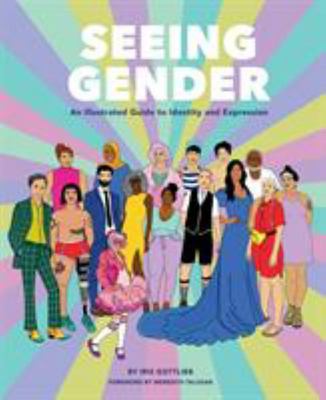 $54.99
NZD
Category: Other
Seeing Gender is an of-the-moment investigation into how we express and understand the complexities of gender today. Deeply researched and fully illustrated, this book demystifies an intensely personal--yet universal--facet of humanity. Illustrating a different concept on each spread, queer author and a rtist Iris Gottlieb touches on history, science, sociology, and her own experience. This book is an essential tool for understanding and contributing to a necessary cultural conversation, bringing clarity and reassurance to the sometimes confusing process of navigating ones' identity. Whether LGBTQ+, cisgender, or nonbinary, Seeing Gender is a must-read for intelligent, curious, want-to-be woke people who care about how we see and talk about gender and sexuality in the 21st century. ...Show more