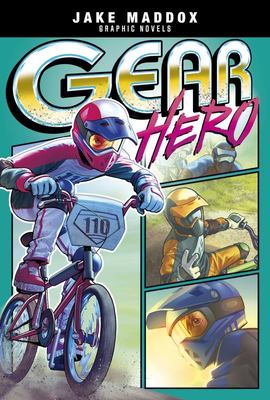 $14.99
NZD
Category: Series | Series: Jake Maddox Graphic
Nelson Greenwood loves BMX racing, almost as much as he loves to draw superheroes. The hero of his own comic book, Major Speed, isn't afraid of anything, much like Nelson's twin brother Nick. Nelson looks up to Nick and his mad BMX skills. But when a rough crash keeps Nick out of the BMX-Treme Competiti on, he suggests that Nelson take his place. However, Nelson doesn't think he has what it takes to compete against the best racers in the city - especially Nick's nemesis, Cain Otto. Can Nelson shift gears and muster the courage and strength of Major Speed to compete in the race? Combining a high-stakes sports story with a dynamic full-color comic format, this Jake Maddox Graphic Novel is sure to be a win for young athletes and struggling readers alike. ...Show more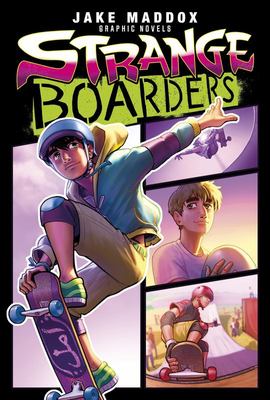 $14.99
NZD
Category: Series | Series: Jake Maddox
Adnan Zakaria's family recently fled Syria and resettled in America. Adnan feels like a stranger in a strange land. He's lonely and homesick. The one thing that gives him comfort is his best friend's skateboard that he brought with him from Syria. As Adnan navigates his new community, he bonds with new friends at a local skatepark. But he also faces adversity in the form of local troublemaker Mike Proctor. After Adnan loses his precious skateboard one evening, he learns that Mike Proctor has it and won't give it up without a challenge. Will Adnan be able to out-skate his foe and reclaim his board? And will the two boys learn to respect one another, in spite of their differences? Combining a high-stakes sports story with a dynamic full-color comic format, this Jake Maddox Graphic Novel is sure to be a win for young athletes and struggling readers alike. ...Show more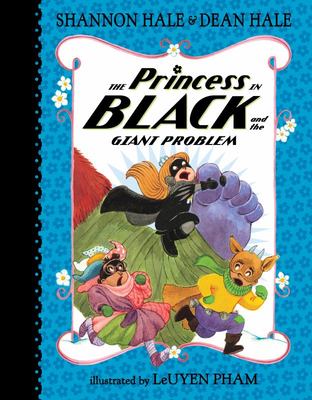 $24.99
NZD
Category: Series | Series: Princess in Black
With a noisy giant crashing around the kingdom, the Princess in Black uses the Sparkle Signal to call ALL her heroic friends together--for the biggest adventure yet. The Princess in Black is ready for her snowy playdate with the Goat Avenger and the Princess in Blankets. It's a perfect day to build sno w monsters and battle them for practice. But just when they're about to wage battle, a huge foot smashes their snow monster. "SQUASHY " It's a giant, and it's smashing everything in its path The giant is too strong for the three friends, so the Princess in Blankets has an idea: it's time to light the Sparkle Signal and summon help. With a rising crescendo of a plot and a delightfully surprising ending, the latest adventure in the New York Times best-selling series features all the Princess in Black's friends as heroes for the first time. ...Show more
$25.00
NZD
Category: Series | Series: Pages and Co
Third in the modern-classic and bestselling bookwandering series that celebrates all that is best in life: books, adventure, friendship - and cake! Strange things are happening. A man comes into Pages & Co looking for a book... then suddenly can't remember it. Tilly and her family feel like the wor ld is changing - but can't quite put their finger on why. Meanwhile, the Underwoods are expanding their control over bookwandering - and they still have their sights set on Tilly. Leaving the safety of the bookshop, Tilly heads to America to find the legendary Archivists and save bookwandering... ... or at least, that's the plan. Wandering in layers of story, Tilly and her friend Oskar come up against dangers they could never have expected, team up with an unexpectedly familiar face, and ultimately find themselves taking on the biggest threat to stories there has ever been - with only their courage and ingenuity to help them. As well as some of their dearest fictional friends... ...Show more
$99.99
NZD
Category: Series | Series: Dog Man
Dog Man is the crime-biting canine who is part dog, part man and ALL HERO! This boxed set features the first seven books in the best-selling, awardwinning series from the creator of Captain Underpants.  
$17.99
NZD
Category: Series | Series: Wings of Fire
Everyone knows the legends... but does anyone know the truth? Fierceteeth, a NightWing obsessed with what could have and should have been. Deathbringer, desperate to prove himself as the next great NightWing assassin. Six-Claws, a loyal SandWing, who will soon find that loyalty comes with a price. Foesl ayer the NightWing, a dragon in love turned kidnapper, and Prince Arctic of the IceWings, a runaway turned captive. In these four short stories, dig deeper into the world of Pyrrhia to discover what really happened.   ...Show more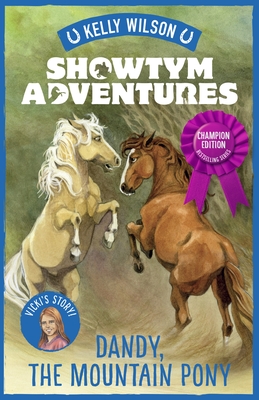 $7.99
NZD
Category: Series
In the first Showtym Adventure, Vicki must train her own wild pony in order to continue her dream of riding. When nine-year-old Vicki Wilson's beloved lease pony is sold, she is heartbroken. Her family doesn't have much money, and she is desperate to have a pony of her own so she can keep riding. Then Vicki has the chance she has been waiting for, to tame and train her own wild pony! How will she earn the trust of her beautiful new chestnut? And will Dandy ever be quiet enough for her to ride at Pony Club or compete at Ribbon Days? This story is inspired by the Wilson Sisters' early years, where Vicki, Kelly and Amanda Wilson first encounter horses in the wild and learn what it takes to make them champions. ...Show more
$16.99
NZD
Category: Series | Series: The Bad Guys
Seriously WHAT is going on with Snake? Terrifying powers! Evil allies! Inter-dimensional doorways! WHAT IS HIS DEAL?! And that's not all! Why is Agent Fox suddenly so mysterious? Who IS she, exactly?! Dang it! We need answers! Wolf and the gang are back. And theyre even more confused than YOU. The Bad Guys EPISODE 12. IT WILL MELT YOUR BRAIN...     ...Show more
$19.99
NZD
Category: Series | Series: Keeper of the Lost Cities
Illusions shatter--and Sophie and her friends face impossible choices--in this astonishing eighth book in the New York Times and USA TODAY bestselling Keeper of the Lost Cities series. Sophie Foster wants answers. But after a lifetime of lies, sometimes the truth is the most dangerous discovery. Even t he smallest secret comes with terrifying new responsibilities. And Sophie's not the only one with blank spots in her past, or mysteries surrounding her family. She and her friends are part of something much bigger than they imagined--and their roles have already been chosen for them. Every clue drags them deeper into the conspiracy. Every memory forces them to question everything--especially one another. And the harder they fight, the more the lines blur between friend and enemy. ...Show more
$19.99
NZD
Category: Series | Series: Keeper of the Lost Cities
Sophie Foster doesn't know what--or whom--to believe. And in a game with this many players, the worst mistake can be focusing on the wrong threat. But when the Neverseen prove that Sophie's far more vulnerable than she ever imagined, she realizes it's time to change the rules. Her powerful abilities ca n only protect her so far. To face down ruthless enemies, she must learn to fight. Unfortunately, battle training can't help a beloved friend who's facing a whole different danger--where the only solution involves one of the biggest risks Sophie and her friends have ever taken. And the distraction might be exactly what the villains have been waiting for. ...Show more
$16.99
NZD
Category: Series | Series: Captain Underpants
When we last saw our heroes, George and Harold, they had been turned into evil zombie nerds doomed to roam a devastated, post-apocalyptic planet for all eternity. But why, you might ask, didn't the amazing Captain Underpants save the boys from this frightening fate? Because Tippy Tinkletrousers and his time-traveling hijinks prevented George and Harold from creating Captain Underpants in the first place! Now, having changed the course of human history forever, they'll have to figure out a way to CHANGE IT BACK! ...Show more
$18.99
NZD
Category: Series | Series: Scribble Witch Ser.
Welcome to the magical series about a girl and her secret scribble witch, guaranteed to make 7-9s laugh out loud. When Molly finds out her best friend, Chloe, is moving schools, it feels like the end of the world. That's until she realises her secret paper witch, Notes, can fly letters between them. B ut then Molly receives a note from Chloe that mentions her new friends and the Inter-School Spelling Championship and her bubble bursts. In retaliation, Molly enters herself into the competition. Just one tiny problem: Molly absolutely HATES spelling. Meanwhile, Notes is up to her usual tricks and is determined to help Molly make new friends of her own. Of course, there are a few magical muddles along the way ... Can Molly and Chloe get their friendship back on track? Will Notes succeed in her mission? And who will win the dreaded Inter-School Spelling Championship? With a vibrant, unique voice, and amazing illustrations to match, Inky Willis conjures up magic for every reader! Have you read the first book in the series, Notes in Class? ...Show more