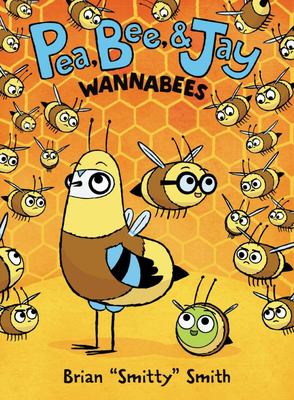 $16.99
NZD
Category: Graphic Novels | Series: Pea, Bee, and Jay Ser.
Get ready to roll with Pea, Bee, & Jay in this brand-new early reader graphic novel series by Brian "Smitty" Smith, perfect for fans of Narwhal & Jelly, emerging readers, and comic lovers alike Who knew being queen could sting so much? All Bee really wants to do is play with her two best friend s, Pea and Jay. But when she's replaced by Lenny--an ambitious bee hungry for power--as queen of her hive, the friends set out to prove Lenny isn't exactly who he seems to be. Can Bee, with the help of her friends, regain her crown and throne, or has the Reign of Lenny officially begun? ...Show more
$21.00
NZD
Category: Real World
Hilarious, bold, sparky and surprising, this is the funniest feminist book you'll read all year. Alex is a rebel from the tip of her purple fauxhawk to the toes of her biker boots. She's tried everything she can to get expelled from her strict Catholic boarding school. Now, Alex has a new plan. Tired of the sexism she sees in every corner of St Mary's, Alex decides to stage the school's first ever production of The Vagina Monologues. Which is a challenge, as no one else at St Mary's can even bear to say the word 'vagina' out loud . . . ...Show more
$24.00
NZD
Category: Sci-Fi/Fantasy
A genre-smashing story of survival, hope and love amid a ravaged earth. A deadly flu has swept the globe, leaving a shell of the world that once was. Among the survivors are eighteen-year-old Nico and her dog, who are on a journey devised by Nico's father to find a mythical portal; a young artist named Kit, who knows almost nothing of the world outside the old abandoned cinema he was raised in; and and the enigmatic Deliverer, who lives Life after Life in an attempt to put the world back together. ...Show more
$23.00
NZD
Category: Graphic Novels
Plunge into another battle between plants and zombies as Dr. Zomboss turns the entirety of Neighborville into a giant, fully-functional pinball machine! With bumpers, flippers, and pegs meticulously scattered across town by the zombie pinball wizard himself, Nate, Patrice, and their plant posse must fin d a way to revert Neighborville to its normal state and halt this uniquely horrifying zombie invasion. With every ball and bumper set against them, will they hit a run of zombie knock-out skill shots - or will the battle go full tilt zombies?! ...Show more
$17.99
NZD
Category: Young Adult
From New York Times bestselling and award-winning author Ren e Watson comes a new YA--a love story about not only a romantic relationship but how a girl finds herself and falls in love with who she really is. When Nala Robertson reluctantly agrees to attend an open mic night for her cousin-sister-friend Imani's birthday, she finds herself falling in instant love with Tye Brown, the MC. He's perfect, except . . . Tye is an activist and is spending the summer putting on events for the community when Nala would rather watch movies and try out the new seasonal flavors at the local creamery. In order to impress Tye, Nala tells a few tiny lies to have enough in common with him. As they spend more time together, sharing more of themselves, some of those lies get harder to keep up. As Nala falls deeper into keeping up her lies and into love, she'll learn all the ways love is hard, and how self-love is revolutionary. In Love Is a Revolution, plus size girls are beautiful and get the attention of the hot guys, the popular girl clique is not shallow but has strong convictions and substance, and the ultimate love story is not only about romance but about how to show radical love to the people in your life, including to yourself. ...Show more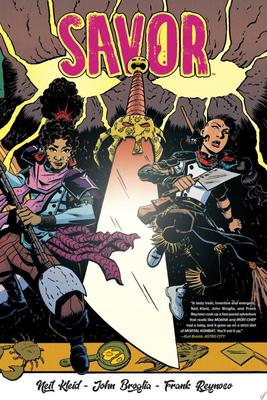 Savor
by Kleid, Neil
$30.00
NZD
Category: Graphic Novels
Warrior chef Savor Batonnet has returned home, to the island of Earth's Oven, after years away. When she learns that a crew of demonic pirate cooks has captured both the island and her family, Savor has to take on her very first quest as a newly minted hero! But are being called a "hero" and a handful o f skills all the ingredients she needs to face five deadly restaurants, forge the world's most powerful knife, save both her parents and the woman she loves? Creators Neil Kleid (Brownsville, Kings and Canvas, Powers- The Secret History of Deena Pilgrim), John Broglia (God Complex, Zombie-Sama) and Frank Reynoso (Kings and Canvas, The Sweetness) serve up a bite-sized story about finding your way, food fighting, family, fun and adventure! Fans of video games and cooking competitions will enjoy this all ages graphic novel. ...Show more
$19.99
NZD
Category: Sci-Fi/Fantasy | Series: Bring Me Their Hearts
No one can save her. In order to protect Prince Lucien d'Malvane's heart, Zera had to betray him. Now, he hates the sight of her. Trapped in Cavanos as a prisoner of the king, she awaits the inevitable moment her witch severs their magical connection and finally ends her life. But fate isn't ready to gi ve her up just yet. With freedom coming from the most unlikely of sources, Zera is given a second chance at life as a Heartless. But it comes with a terrible price. As the king mobilizes his army to march against the witches, Zera must tame an elusive and deadly valkerax trapped in the tunnels underneath the city if she wants to regain her humanity. Winning over a bloodthirsty valkerax? Hard. Winning back her friends before war breaks out? A little harder. But a Heartless winning back Prince Lucien's heart? The hardest thing she's ever done.  ...Show more
$22.99
NZD
Category: Real World
A funny and heart-warming queer Indigenous YA novel, set in a rural Australian community, about seventeen-year-old Jackson finding the courage to explore who he is, even if it scares him.  'I don't paint so much anymore,' I say, looking to my feet.  'Oh. Well, I got a boy who needs to do some art. Y ou can help him out,' Aunty Pam says, like I have no say in the matter, like she didn't hear what I just said about not painting so much anymore. 'Jackson, this is Tomas. He's living with me for a little while.'  It's a hot summer, and life's going all right for Jackson and his family on the Mish. It's almost Christmas, school's out, and he's hanging with his mates, teasing the visiting tourists, avoiding the racist boys in town. Just like every year, Jackson's Aunty and annoying little cousins visit from the city - but this time a mysterious boy with a troubled past comes with them… As their friendship evolves, Jackson must confront the changing shapes of his relationships with his friends, family and community. And he must face his darkest secret - a secret he thought he'd locked away for good.  Compelling, honest and beautifully written, The Boy from the Mish is about first love, identity, and the superpower of self-belief. ...Show more
$25.00
NZD
Category: Real World
A fresh, breakout YA novel that is layered with themes of immigration, cultural identity, and finding your voice in any language. Sixteen-year-old Ana is a poet and a lover of language. Except that since she moved to New Jersey from Argentina, she can barely find the words to express how she feels. A t first Ana just wants to return home. Then she meets Harrison, the very cute, very American boy in her math class, and discovers the universal language of racing hearts. But when she begins spending time with Neo, the Greek Cypriot boy from ESL, Ana wonders how figuring out what her heart wants can be even more confusing than the grammar they're both trying to master. After all, the rules of English may be confounding, but there are no rules when it comes to love. With playful and poetic breakouts exploring the idiosyncrasies of the English language, Love in English is witty and effervescent, while telling a beautifully observed story about what it means to become "American." ...Show more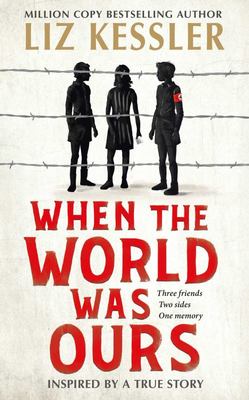 $22.99
NZD
Category: Young Adult
A powerful and heart-breaking novel about three childhood friends living during the Second World War whose fates are closely intertwined, even when their lives take very different courses. For readers of Private Peaceful, The Book Thief and Anne Frank's The Diary of a Young Girl. Three friends. Two side s. One memory. Vienna. 1936. Three young friends - Leo, Elsa and Max - spend a perfect day together, unaware that around them Europe is descending into a growing darkness, and that events soon mean that they will be cruelly ripped apart from each other. With their lives taking them across Europe - to Germany, England, Prague and Poland - will they ever find their way back to each other? Will they want to?   Inspired by a true story, WHEN THE WORLD WAS OURS is an extraordinary novel that is as powerful as it is heartbreaking, and shows how the bonds of love, family and friendship allow glimmers of hope to flourish, even in the most hopeless of times.  ...Show more
$32.99
NZD
Category: Graphic Novels | Series: Rivers of London Ser.
Detective Inspector Peter Grant is back in an all-new comic miniseries from author Ben Aaronovitch Trouble never lies far from the race track. When a flash car belonging to a young boy racer from England washes up in the Netherlands with a bagload of unusual cargo, it's evident there is more than meets the eye happening at street races held in an Essex car park. Enter Detective Inspector Peter Grant. Fresh from suspension, he takes to the track in his orange 'asbo' Ford Focus to try and infiltrate the big leagues. But Peter soon finds himself sucked back into an Otherworld - a real-life fairyland ...Show more
$19.99
NZD
Category: Young Adult
As an ex con artist, Nora has always got herself out of tricky situations. But the ultimate test lies in wait when she's taken hostage in a bank heist. And this time, Nora doesn't have an escape plan. Meet Nora. Also known as Rebecca, Samantha, Hayley, Katie and Ashley - the girls she's been. Nora didn 't choose a life of deception - she was born into it. As the daughter of a con artist who targeted criminal men, Nora always had to play a part. But when her mother fell for one of the men instead of conning him, Nora pulled the ultimate con herself: escape. For five years Nora's been playing at normal - but things are far from it when she finds herself held at gunpoint in the middle of a bank heist, along with Wes (her ex-boyfriend) and Iris (her secret new girlfriend and mutual friend of Wes ... awkward). Now it will take all of Nora's con artistry skills to get them out alive. Because the gunmen have no idea who she really is. And that girl has been in hiding for far too long ... ...Show more